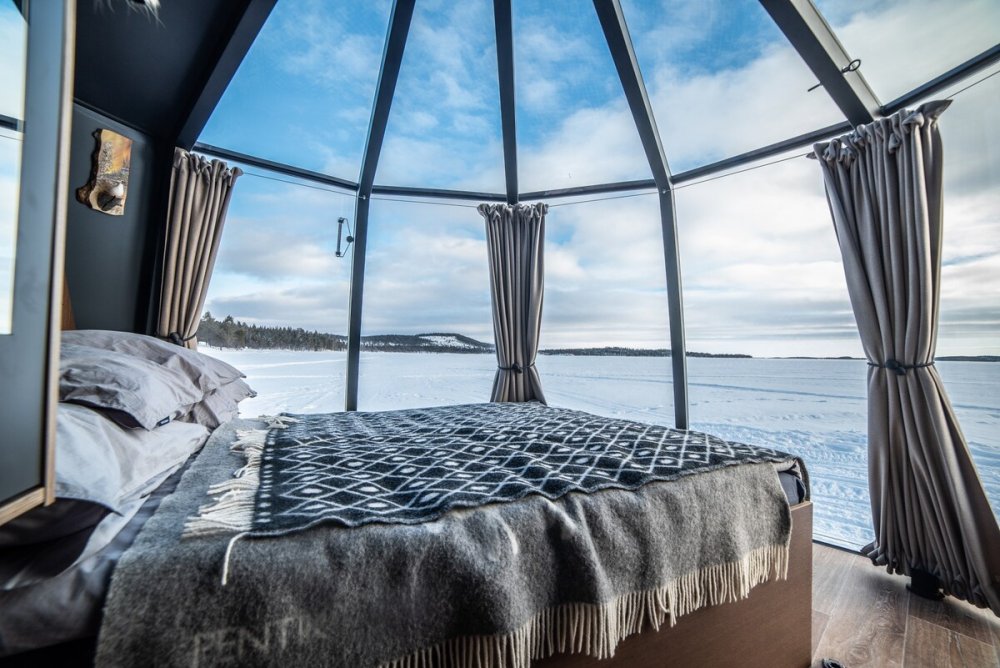 Our dreamy glass Igloo offers couples and friends perfect accommodation underneath the magical northern lights.
What would it sound like to stay in a one-of-a-kind glass igloo in the middle of beautiful Lapland? The igloo offers a unique escape from the fuss and hassle of everyday life in the middle of Finnish nature. You get to admire the stars twinkling while lying in bed and perhaps see the northern lights dancing in the sky. Underneath the glass ceiling, there is a private toilet and a comfortable bed for two people.
During the summer the igloo floats on the water and during the winter it lies on top of the ice. The location is also convenient: Only 17 kilometers from the center of Rovaniemi and 24 kilometers from the airport.
Heated Panorama glass Igloo
Panorama View
An award winning extra comfortable Queen size bed
Bluetooth Speaker
Compostive Eco Toilet
USB-Charging port
Backyard
Quiet and peaceful location
Hot tub 120€/Day
Sauna 150 €/Day
Sauna and Hot tub - Package 200 €/Day
Other things to keep in mind
The igloo does not come with a shower but renting out the additional panorama sauna will give you access to the shower!
Igloo does not have drinking water so enough drinking water should always be brought to the igloo.
Come and experience one-of-a-kind memories in the igloo and make the most out of your holiday in Lapland! Also, check out other premium accommodation options and the activities we offer.
Contact us »